Milk contains two types of proteins – casein and whey. Whey protein is the fatty substance that coagulates during the cheese making process and is taken as a by-product. It usually contains added flavor and is one of the most talked about supplements in the fitness world. Explore the complete range of GNC whey protein and GNC protein powders.
Here are some benefits of whey protein supplements you must know about –
It is an excellent source of high quality protein
May help lower blood pressure
Promotes muscle growth
May help treat type 2 diabetes
Reduces inflammation
Beneficial for inflammatory bowel disease
Increases body's antioxidant defense
Has a beneficial effect on blood fats
Is highly satiating, thus reducing hunger
Helps you lose weight
Here are the top 4 GNC whey protein supplements available in India.
GNC AMP Gold Series 100% Whey Protein Advanced
One of the best GNC proteins is GNC Amp Gold Series 100% whey protein advanced. It is a highly advanced fast absorbing formula that's the perfect amalgamation of whey isolate, whey concentrate, and whey hydrolyzed. Each serving provides 24 g protein, 5.5 g of branched chain amino acids, 4 g glutamine, and 100 mg digestive enzymes. It mixes instantly and tastes great.
It is available in 4 flavors – delicious strawberry, double rich chocolate, vanilla, and cookies & cream. The main benefits of this GNC protein are – enhances performance, maximizes muscle gain, improves muscle recovery, and is helpful in sustained muscle repair and growth.
GNC Amp Pure Isolate
A lot of fitness enthusiasts and athletes prefer whey isolate supplements over whey protein. GNC Amp Pure Isolate is one of the top selling GNC protein powders. It is a micro-filtered formula that fuels strength and improves performance. Also since it is a fast absorbing formula, it is greatly beneficial in muscle growth and repair. Have it as a post workout supplement or even in between meals to get best results.
Each serving provides 25 grams of protein and 5 grams of muscle supporting BCAAs for muscle repair and formation. It is obtained by an extensive 20 step purification process to ensure you get best quality. GNC Amp Pure Isolate is available in 2 flavors – chocolate frosting and vanilla.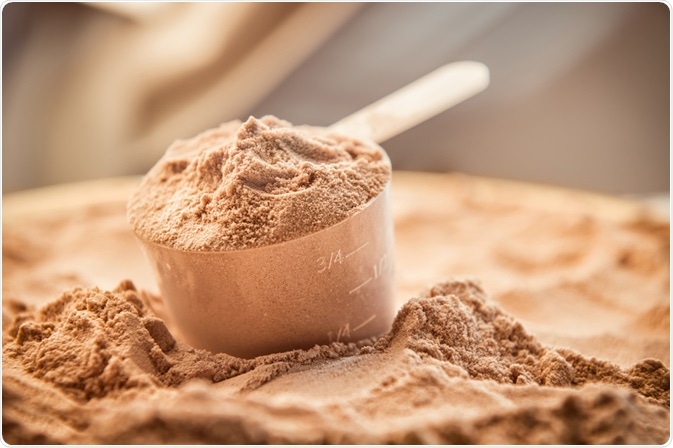 GNC Pro Performance 100% Whey Protein
GNC Pro Performance is one of the most popular ranges of GNC products. The whey protein is known for its high quality and is value for money as well. Each serving of GNC whey protein provides 24 g of protein and it has all 9 essential amino acids. It is a gluten free formula which mixes easily and tastes amazing.
It is available in 5 flavors – strawberry, chocolate supreme, cookies and cream, chocolate fudge, and vanilla cream. The main benefits are – supports healthy metabolism and lean muscle recovery, reduces fatigue and muscle cramping, digests quickly, supports overall wellness and athletic performance.
GNC Amp Wheybolic
GNC Amp Wheybolic protein powder is one of the best GNC whey protein powders available. It is clinically proven to make you stronger in 8 weeks. Each serving provides 40 grams of protein, 15 grams of muscle building BCAAs, and 10 grams of leucine.
It is available in three flavors – chocolate fudge, classic vanilla, and cookies & cream. You can have it pre and post workout and also on non-workout days. The highlight of the supplement is the advanced enzyme blend in ProHydrolase that helps fuel better protein absorption. And another important ingredient Velositol accelerates muscle protein synthesis even after strenuous workouts.
These supplements are completely safe to take till the time you abide by the dosage mentioned on the packaging. It is highly recommended that you don't exceed the daily dosage or else there might be certain side effects.
There are so many different protein powders available in the market. Don't compromise with quality. Choose the best with GNC whey protein. Make sure you always consult your doctor before including any new supplements in your diet.